The Concept
Plages etc is the name of the range of my creations.
In my Breton workshop, I handmake bags, shopping bags, cushions, duvets, household linen, curtains… using an hand-crafted method. On each of them, I print stamps and patches that I create from the name of the beaches of Brittany.
We all have a beach that makes us dream.
Beaches like "la plage des Dames" ou "les 4 sardines de Concarneau", "la Pissotte de la baie de la Fresnaye", "la petite et la grande Salinette de Saint-Briac", "dunes of Porn Cao", "lavoir de Feunteun Aodou"…
A small cove of white sand, surrounded by houses, that makes us think about the hand of our mother, a shell seeking session with our father, a nice small harbour that brings back the memory of our first love, a wild bay where we spend long nights talking on the wet sand, a large cove at dawn where we went for a walk alone or with our dog, a rocky shingle where our last kid made his first climbing, friends from the club on summer days...
This is where I take my inspiration, memories by the sea, those you would like to share and help me create a particular patch. I feed myself with the History of our Breton seashore. I am really interested in western costumes, architecture and decoration of our holiday houses, the railway epic, the beauty of the old rigs, family holidays…
Each of my piece is unique and printed for you. You can order online, by selecting the model, the size, the color of your choice and the name of the beach.
I keep an eye on the planet and I really want to conjugate past, present and future.
Plages etc signed up for an eco-friendly approach by making the choice of using recycled and local fabrics. My creations give a second life to noble and stable materials, french weaving, 100% weft and warp fabrics. Everything is made by myself, in my workshop in Saint-Cast-le-Guildo.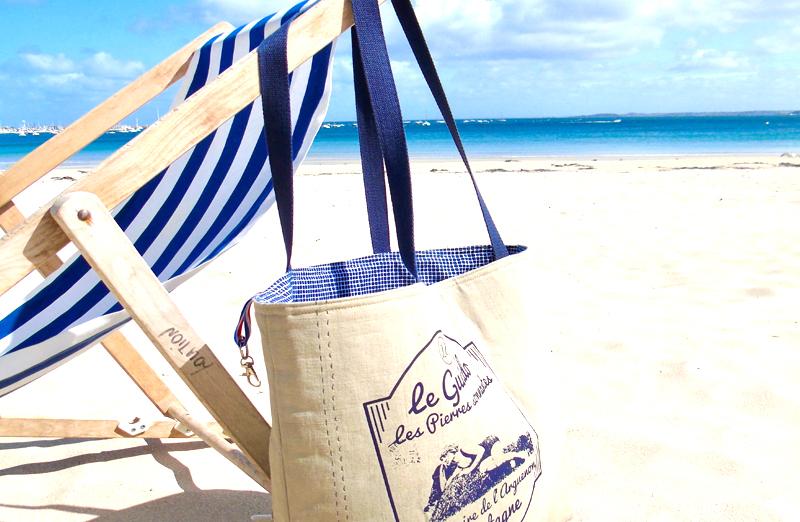 Some of my designs !